News Release
FOR IMMEDIATE RELEASE: June 24, 2015
Contact Information:
Noel Watts, CEO
Marketing Association for Rehabilitation Centers, Inc.
475 South Church Street; Suite 201
Hendersonville, NC 28792
(828) 595-2995
This email address is being protected from spambots. You need JavaScript enabled to view it.
WOI Improves Manufacturing Competitiveness through "Lean and Green"

Boone, NC – Through a tightly-focused and intensive program facilitated by Waste Reduction Partners, Watauga Opportunities, Incorporated, (WOI) improved productivity at a major medical production line by 25% and made changes to achieve an immediate reduction in energy costs. "This process has really energized our workforce," said Michael Maybee, WOI's CEO. "It was an intensive two days' work, and to see the immediate results of our work has been truly rewarding – in every sense of the word." WOI is a workforce development social enterprise which specializes in contract manufacturing including plastic thermoforming, packaging, & labeling of medical devices delivered either sterile or nonsterile. Being registered ISO 13485 and ISO 9001, WOI is focused on continuous improvement opportunities in its manufacturing and quality programs.

To achieve these results, Waste Reduction Partners' technical assistance group facilitated a hands-on "Leaning" training event including value stream mapping, line diagramming, and environmental impact review. The team generated fourteen opportunities for improvement including the redesign of assembly layout, inspection and packaging. The Leaning event addressed the multifaceted objectives of a vocation employer achieving both the delivery of important value-added manufacturing services as well as social enterprise workforce mission. Ten WOI staff were involved in the training and working event. "It's always amazing to see both the improvement in competitiveness for the business and the uptick in employee morale through the Lean and Green process," said Terry Albrecht, Director and Event Coordinator for Waste Reduction Partners. "In this case, it has been especially gratifying to see the involvement and contribution of people with disabilities in WOI's competitive and integrated workforce."

This effort and more like it was sponsored by MARC, Inc., a joint venture among 16 organizations like WOI across western NC and funded by EPA (lean and green event) and USDA-REAP (energy efficiency assessment). MARC's role is to bring community-based resources, like Waste Reduction Partners, to assist and serve it membership in improving efficiency, cost reduction strategies, and environmental performance improvements. "We are delighted with our partnership with Waste Reduction Partners," said Noel Watts, MARC's CEO. "Our organizations compete every day in a tough global market and we need efforts like this to continue to win manufacturing business and employ people in our region. In the last several years, programs like this have helped our group add sales and over 600 manufacturing jobs with good pay and benefits."
About Watauga Opportunities, Inc.
Watauga Opportunities, Inc. (WOI) is a manufacturing social enterprise located in Boone, North Carolina. WOI provides comprehensive packaging services including design and manufacture of thermoform packaging materials. It also kits and packages medical devices. WOI production operations are registered ISO 13485, ISO 9001 and its facility is FDA registered. WOI is also a non-profit community rehabilitation program providing vocational training, job placement, employment opportunities, community opportunities and residential services to adults who have barriers to employment and community inclusion. WOI workforce transformation operations are registered by CARF International.
Contacts:

Michael Maybee, President/CEO Watauga Opportunities This email address is being protected from spambots. You need JavaScript enabled to view it.
Delmus Williams, Plant Manager This email address is being protected from spambots. You need JavaScript enabled to view it.
Laura Warren: Quality Manager This email address is being protected from spambots. You need JavaScript enabled to view it.
About Waste Reduction Partners
WRP is a state-sponsored technical assistance group of staff and retired industrial professions, engineers and scientists. Since 2000, they have helped over 2,030 NC businesses and institutions save more that $71 million in utility costs and operational savings.
Contacts
Conrad Meyer, Technical Manager, Waste Reduction Partners, cell 910-986-2680, This email address is being protected from spambots. You need JavaScript enabled to view it., Leaning Workshop Facilitator
Terry Albrecht, Director Waste Reduction Partners, cell 828 707-2834 This email address is being protected from spambots. You need JavaScript enabled to view it., Workshop/Event Coordinator
About MARC, Inc.
MARC is a 501(c)3 nonprofit, founded in 1978 that is a social enterprise joint venture among 15 independent 501(c)3 Community Rehabilitation Programs (CRPs). Collectively, we serve 25 counties in western NC in a service area about the size of Maryland. We also support and advise similar organizations in eastern NC and other states. MARC is an innovation platform for multi-line product development, manufacturing, packaging and fulfillment. Our structure and strategy provides a flat, responsive, low-cost management model with contractual standards for quality, service, delivery and cost; transparent operating and cost systems; and peer-to-peer, self-directed work teams from CEOs through senior leadership across organizations and cross-functionally within each organization. MARC members provide workforce development, vocational and prevocational training. They directly employ approximately 1,300 people and will place in successful employment another 1,000 people this year.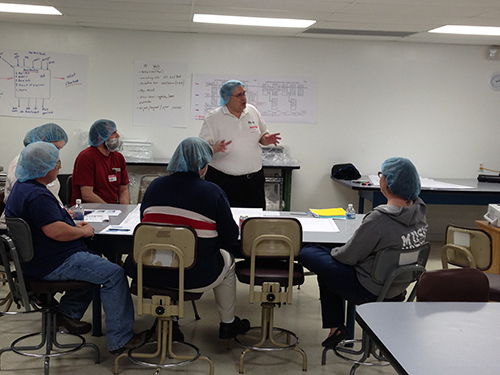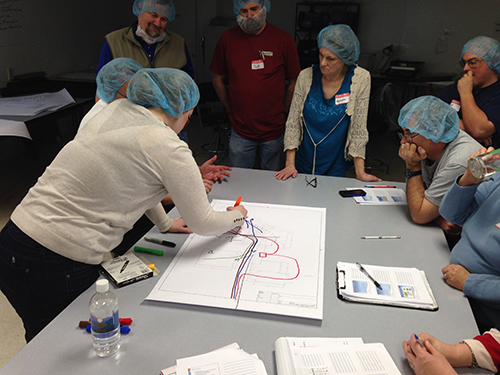 Conrad Meyer, Waste Reduction Partners, shares
Leaning techniques with WOI team.

Team-work: Team Laura Warren traces part flow
through the WOI Cleanroom Assembly Cell.