How to Use This Guide
Your main j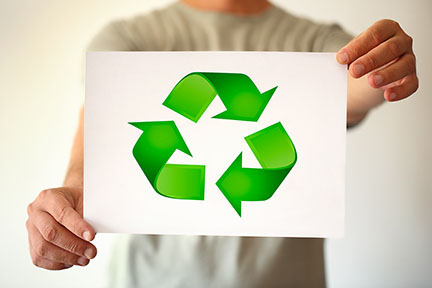 ob as a purchasing agent is to help your organization obtain the materials it needs to operate in a way that seeks the best quality available at the best possible price. It is also important, though, for your purchasing practices to match the goals of your organization. If your organization is committed to environmental sustainability, you should seek out products that match those goals. Buying recycled content products is one of the easier ways to elevate your organization's commitment to sustainability. This guide will help purchasers develop specifications for preferable environmental attributes related to recycled content, access lists of suppliers that you can invite to bid, and in turn help you find quality recycled content products at competitive prices.
Use this guide to learn what types of products are available with recycled content.
When it comes time to purchase one of these products, consider the sample specifications, purchasing information, and resources for additional information in Section V to help you develop your own criteria for your purchase.
Keep up to date with the Federal Comprehensive Procurement Guidelines (CPG) by following the link in Resources Section IV. The EPA has recently sought input from various stakeholders on the types of products included in the CPG and the recommended recycled content percentages. Therefore, the guidelines will evolve over time.
To learn what manufacturers and suppliers can provide these products or bid on a contract, look for the Product and Manufacturer Directory listing in the Resources Section IV and also Section VI, NC Business Leaders Using Recycled Content.
If your organization is in the design phase of your product's development or its packaging, look through the Product and Packaging Design Guides in the Resources Section IV.
If you are a public sector purchasing agent in NC, take a look at Section V, NC Statewide Contracts that Include Recycled Content, to see what is available.
If you want to delve into other aspects of Environmental Purchasing, check out the links to Environmental Purchasing Guides in the Resources Section IV.